Whats New in the Revel 2.31 Update
from: Revel.com
Revel Systems is excited to announce our latest update, 2.31. This update includes enhancements as well as brand new features that were built to help you run your business more efficiently and effectively.
Here are some of the highlights:
Enhanced Interface
Navigate your POS easier with new layout improvements. We have worked closely with Apple to provide you with the best-in-class interface to reduce friction, enhance the user's experience, and align our platform more closely to the familiarity of Apple's core form and functionality. There is a new dashboard for the 2.31 app. Within the app, the dashboard features a graphic breakdown of sales and a variety of different actions within the POS which are all easily accessible from one place. The dashboard will be specific to each employee, based on the roles and permissions administered.
This is what it looks like!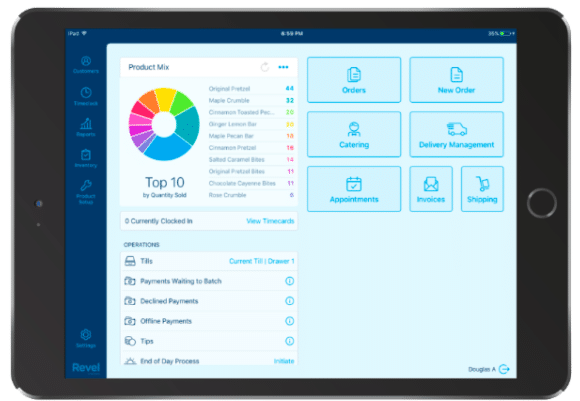 More Payment Options
Payment flexibility is critical for businesses to be able to offer the best customer experience. 50% of shoppers would cancel their purchases if their preferred payment method was not available; this exemplifies how important it is for your business to offer a number of different payment options for your customers.
We have deployed Price Tiers to our products page. Here, merchants can set up different prices for different promotions. Price Tiers can be useful when offering promotions that have different alternate prices. For example, you can be nimble in the marketplace by differentiating your pricing for Happy Hour on Thursdays but in addition to that, you can offer a separate price over Labor Day Weekend.

With stackable discounts, Revel now supports the ability to configure multiple discounts against a single item or order. There are three types of discounts for stacking, 'Competitive', 'Competitive not stacked', and 'Stackable.' You can also now accept and create Voucher Payments and create House Accounts at any time on the POS and adjust the limits accordingly.
Advanced Reporting
Revel's redesigned the Sales Summary Report so data is more easily usable and digestible. We created a section dedicated strictly to those liabilities and to ensure that other account activity is represented more accurately. This includes better reporting for our Payments with Gift Cards, House Accounts, Store Credit, and Deposits.
We have also enhanced our Discount tracking and reporting, as well as our foreign currency tracking.
Learn More here!